Dr. Deborah L. Wright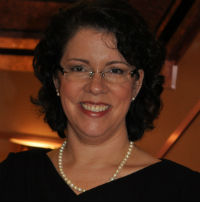 Dr. Wright is a 1991 graduate of Otterbein College and earned her Doctor of Optometry degree at The Ohio State University College of Optometry in 1996. In addition to receiving training in contact lenses, pediatrics, and low vision, Dr. Wright's education included an externship program at Commonwealth Eye Services in Lexington, KY in 1995. There she gained valuable experience with pre- and post-operative care of cataract patients and glaucoma management.
After enjoying 14 years in a successful practice in Westerville, Dr. Wright decided to start her own Optometry practice closer to home in the Sunbury/Galena area. She attends many educational seminars throughout the year to stay current with the latest clinical procedures, information, and technology.
Dr. Wright lives in Centerburg, OH. Her two boys attended Big Walnut schools and currently attend University of Cincinnati and Roanoke College. Dr. Wright's favorite hobbies are hiking, reading, and photography.



Dr. Hope Patterson Gardner
Dr. Gardner earned a Bachelor of Science degree with Honors from Pennsylvania State University. An Air Force brat, Dr. Gardner found her permanent home in the Columbus area while attending The Ohio State University College of Optometry. She earned her Doctorate of Optometry cum laude and a Masters in Physiological Optics in 1999. She then completed a residency in Ocular Disease at the Eye Center of Toledo.
Since graduation, Dr. Gardner has worked in several areas of optometry. She worked in the Optometry clinic of the Columbus VA. She was a Clinical Assistant Professor at The Ohio State University and worked on a study of progressive bifocal lens design. She has also worked at Sears Optical in Mount Vernon and the Polaris mall. Most recently, Dr. Gardner practiced at Optic Nerve Polaris.
Dr. Gardner and her husband, Jeff, have called Sunbury home since 2000. They are the proud parents of Emma, Jacob, and Sarah. Dr. Gardner enjoys spending time with her family and attending the band concerts and sporting events of her children.
Dr. Susan M. Franko

Dr. Franko graduated from Mount Vernon Nazarene University in 1992 and earned her Doctor of Optometry from The Ohio State University College of Optometry in 1996 where she was a member of Gold Key National Honor Society and the Fellowship of Christian Optometrists. Her time at Ohio State included an externship at the VA hospital in Dayton, Ohio, working closely with opthamology while gaining vauable experience in ocular pathology.

Originally from Troy, Ohio, Dr. Franko located to Mt. Vernon, Ohio with her husband in 1997 where she has practiced part time while raising a family. Pediatrics and pathology are of special interest to Dr. Franko, but she enjoys working with patients of all ages. Dr. Franko joined Sunbury Family Eyecare, LLC in 2017 and continues to practice part-time in Mt. Vernon. Ohio.

Dr. Franko enjoys music and arts and spends most of her free time with her family.